11 April 2009
"Erase Me" appeared in the opening sequence of the premiere of CBS's new show, Harper's Island.
19 September 2002
It's true, there's not been a whole lot of band news to report this year. We've been taking a break from performing, recording, and, well, being a band. But we're posting an MP3 of an unreleased song called "Waterfall" that we co-wrote with Master Cylinder last year. We like it and hope you do too.
2 November 2001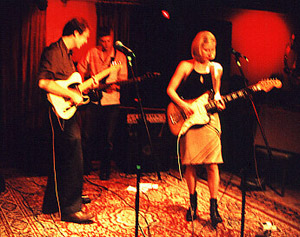 We want to send a big thank you to everyone who came out to see us play at our October residency at the Lizard Lounge, to all the great bands and artists who played with us, and to Gordon Withers and Winston Yu for joining us on cello and violin/keyboards, respectively. To the right is one of the photos that Eric Johanson took at the show on the 24th.
17 July 2001
A few fall shows are coming together right now, and we'll have them posted as soon as they're confirmed. The band has been laying low this summer due to some tendinitis trouble with Brendan's wrist, but he's working hard on getting better and we expect to be back on stage as early as September. In the mean time, we've been writing and recording more songs for the next record, which should be finished by the end of the summer.
Be sure to key an eye out for Kristen Barry, who's been playing some great solo shows here in Boston. Her upcoming gigs will be listed on our shows page.
In a bizarre note, Star Ghost Dog's former manager, Kevin McDonough, was on The Weakest Link last night -- and he won! Congratulations, Kevin!
17 March 2001
We've given the website a revamp, and if you've seen the "Holiday" video you'll probably recognize the film stills at the top of each page. Feedback is always welcome, so let us know if there's other stuff you'd like to see here at starghostdog.com.
We're busy writing songs for the next record, and you'll be able to hear our new sounds at upcoming shows. Those in the Boston area should especially try to make it to our May 4 TT's show with Tugboat Annie and Bleu. It's a benefit for Mikey Dee, longtime champion of Boston bands and a friend to Star Ghost Dog. His story and more details on how to help can be found at www.mikeydee.com.
22 February 2001
Anyone who's seen the band play recently has no doubt noticed a new addition to our live show, namely the lovely and talented Kristen Barry on keyboards and back-up vocals. Many might remember Kristen from her earlier work as a solo artist, and we're very happy to announce that after a bit of a hiatus she's back performing her own songs at the Kendall Cafe's "Tuesday Night Music Club" on March 6. Also on the bill that night: Kay Hanley (Letters to Cleo) and Tracy Bonham.
30 December 2000
It's been a great year for Star Ghost Dog, and we want to thank all the supportive folks who've bought our records and come out to see the band play live.
31 October 2000
The "Holiday" video is here! (8 MB QuickTime movie) If you're viewing from a dial-up modem, be patient, 'cause it takes a while to load.
Fans of "Buffy The Vampire Slayer" can hear Star Ghost Dog's "Underdrive" during the Nov. 7 (yes, election night) "Buffy" episode. Will Buffy vote for Nader? Tune in.
5 August 2000
We had a great time on our mini-tour down South last month, and we'd like to thank everyone who came out to see us and especially WRAS for treating us so well down in Atlanta.
A video for "Holiday" is currently in the making, and we'll have it up here at the website just as soon as it's done.
Finally, thanks to Boston Magazine for naming Star Ghost Dog as "Best Up-and-Coming Artist" in their annual Best of Boston issue.
18 May 2000
More awards ... Star Ghost Dog's Ginny Weaver won this year's Boston Phoenix Music Poll for "Best Local Female Vocalist." You can check out the Winner's Supplement inside this week's Phoenix, which includes a cover photo and interview with Ginny. And, again, thanks to everyone who voted!
14 April 2000
Star Ghost Dog won this year's Boston Music Award for "Outstanding New Rock Band (Indie Label)." Some of our favorite Boston bands were nominated in the same category, so we're very flattered to have been chosen, and thanks to everyone who voted for us.
5 April 2000
You can now hear Star Ghost Dog on WFNX 101.7 FM. "Knock Down" has just been added to regular rotation. Thank you, FNX!
22 March 2000
Okay, the new Flash site is up -- and you're not there. Send us a note at starghostdog@yahoo.com if you have any comments, suggestions, or requests regarding either version of the SGD website.
You can check out photos from our CD release party at the Boston Rock Project website.
Star Ghost Dog's very own Ginny Weaver has been nominated as Best Local Female Vocalist in the Boston Phoenix's annual readers poll. You can vote for her at the Boston Phoenix website. [voting now over]
In other news ... be sure to log on to Insound at 9:00 p.m., Thursday, March 30. Star Ghost Dog will be there (digitally) doing a live chat, so if you have any burning questions you'd like to ask the band, here's your chance to get them answered.
16 March 2000
The Flash site we promised you is really almost done, and we're planning to launch it by Monday at the latest. Check back, 'cause it's pretty cool. We'll also keep this regular site going, so you'll be able to pick which one you want to view for your dose of Star Ghost Dog.
The Great Indoors has made a fine showing on the CMJ charts so far, hovering just outside of the Top 20 for the last few weeks. So call in and request Star Ghost Dog at your local college radio station! We could still make it into the rarified air of the Top 20, which may not matter to you, but indie bands like us live for this stuff ... CMJ, blah blah blah, CMJ ... Hey, did you read our review in CMJ?
23 February 2000
The brand new, full-length Star Ghost Dog CD The Great Indoors is here! Look for it in your favorite record store, or go to our music page for online purchasing info. If you order through this website, we handle all the shipping and CDs are always in stock (unless otherwise indicated), so the result is that you'll probably pay less and receive the your order sooner than if you buy through one of the big online retailers.
We'd also like to thank everyone who came out to our CD release party on Saturday, and to all the bands who played -- it was a really great night! Check out the Boston Phoenix review of the show here. And we'll be posting a special section with pictures from the record release some time within the next few days.
18 February 2000
Last night we got an e-mail from Cherry 2000 with the very sad news that they're breaking up, and that our CD release party tomorrow night could be their last performance. We just want to say that the members of Cherry 2000 have been really, really kind to us over the last few years, and we'll be truly sorry to see them split up. They are probably the best live band in town, and their prescence here has made us proud to be a part of the Boston scene. They will be missed, and we wish Dave, Leah, Steve, and Poundy all good luck-- and hope they keep on rocking. Thanks for being such a cool band, C2K.
We'd also like to wish Mikey Dee, a respected and much-beloved figure in the Boston music scene, a speedy recovery from complications that resulted from his recent surgery. The Planetary Group has stated that in lieu of flowers, a trust has been established to assist with any medical or other expenses. Checks are payable to: The Mikey Dee Musician's Benefit Trust c/o The Planetary Group, 368 Congress Street, Boston, MA 02210. Get well soon, Mikey!
9 February 2000
Well, the reviews for The Great Indoors just keep rolling in, and today we're pleased to report high marks from magazines that surely represent opposite ends of the American pop music press: the CMJ New Music Report and, yes, Teen Beat! Oddly, it's Teen Beat that looks for hidden meaning on Track 5 in the juxtaposition of a cryptic lyrical passage with a series of sampled sine waves, while CMJ issues a "hunk alert" on our drummer Chris.
29 January 2000
Okay, the new Star Ghost Dog T-shirts are ready to go. Also, you can put in an advance order for our forthcoming album, The Great Indoors, at the Catapult Records website. The CDs will ship out on the day of their release, Feb. 22.
The latest issue of The Improper Bostonian features a special report on the Boston music scene. Star Ghost Dog is included in the "Ten Bands Making Noise" piece, and you can read the write-up here.
25 January 2000
New Star Ghost Dog T-shirts are on the way! We'll post the ordering info (styles, sizes, prices) on our Merchandise page later this week, and in the meantime you can take a peek at the design. New stickers are also coming soon.
17 January 2000
We've got a big week of shows coming up, including dates in Boston, New York, and Philadelphia. And in case you can't make it to any of those, our set at Brownies will be broadcast live over the internet at The Digital Club Network website. Tune in at 8:00 p.m. E.S.T. on Thursday, January 20.
We're also in the process of designing a brand spankin' new Flash website for the band, which should be up and running some time within the next few weeks. Keep checking back!
7 January 2000
If you'd like to see all the secrets of Star Ghost Dog revealed in Ginny's sensational interview with The Boston Globe ("Uh ... the name Star Ghost Dog doesn't really mean anything ..."), check out today's feature story, "Local Bands on the Verge."
CD release update: The Great Indoors is now set to hit stores on Feb. 22. And we'll be having our big release bash at the Middle East Upstairs on Feb. 19, with many exciting and glamorous guests. Be there or be square. And welcome to the new millennium, baby!
10 December 1999
Happy holidays, all! We've been getting a great response to the Underdrive EP on radio, breaking into the top 100 on the CMJ charts this week and getting heavy airplay on some big stations, including Santa Monica's influential KCRW. If you live around Boston, you should be able to pick up a copy of Underdrive at Tower Records or Newbury Comics by now, and as soon as the Catapult website is up and running you'll be able to order it there by credit card. The release date for The Great Indoors has been officially set for February 8, 2000, and we're aiming for a tour in March. We'll be sure to keep you posted.
23 November 1999
We've been invited to play the Philadelphia Music Conference on January 22, which is particularly exciting for us since it will be our first rock show in the City of Brotherly Love. We may do a few dates in surrounding cities as well -- check back here for details.
We'd also like to thank Fuzzy, Mishima, the Abbey Lounge, and everyone who came out to our release party for giving our little EP such a smashing send-off. We had so much fun we wish we could release something every week. (Note to self: get cracking on spoken word album "Why, Soundman, Why?")
16 November 1999
Ok, Underdrive is officially out, so you can start bugging your local college station to play it. Also, thanks to MP3.com for picking "Underdrive" as a "Featured MP3.com Song" on their main music page.
9 November 1999
You can get a sneak preview of the new EP at MP3@boston.com, where we've posted an MP3 of the title track, "Underdrive." MP3@boston.com also picked Star Ghost Dog for this week's In the Spotlight feature, so check it out.
3 November 1999
The Underdrive EP will be out on Nov. 15, and we're throwing a little release party at the Abbey Lounge on Nov. 13. We'll have copies of the EP available at the show for $3.00, and we'll probably give a few away as well. Fuzzy and Mishima will be joining us. So come celebrate our love.
11 October 1999
Star Ghost Dog gets the thumbs up in the Fall Preview issue of Boston Magazine. Writer Andrew Rimas provides the most poetic description we've heard of our music: "Butterflies with teeth."
3 October 1999
It's been a busy summer. We finished recording and mixing our new album The Great Indoors at Fort Apache Studios in August. It should hit stores in late January 2000. In the meantime, Catapult Records will be issuing a limited edition EP in November featuring two songs from the new album plus two bonus tracks. We'll have one of those new tracks available for free download as an Mp3, and you can contact us at starghostdog@yahoo.com for info on how to get a copy of the EP. We also played our first CMJ MusicFest showcase in September, which was a lot of fun.
©2009 Star Ghost Dog - All Rights Reserved