Songwriters Ginny Weaver and Brendan Lynch formed Star Ghost Dog in Northampton, Massachusetts in the summer of 1995, and relocated to Boston that fall. There they found drummer Tom Green and began playing out in and around Boston, soon catching the ears of Catapult Records. The trio recorded their debut CD, Happylove, in the fall of 1997, and when Tom left the band, Ginny and Brendan recruited veteran drummer Chris Foley (formerly of Jen Trynin and punk legends SSD). They also added bassist Owen Burkett (ex-Incinerator) to the lineup, which allowed Ginny and Brendan to share guitar duties.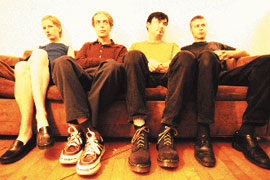 Star Ghost Dog followed up the February '98 release of Happylove with a vinyl 7", "Automatic Caution Door," on Scientific Records, which yielded a local hit, "Plus de Vaches (Qui Remix)." During the summer of '99 the band completed their second full-length album, The Great Indoors. The CD was recorded at Fort Apache Studios and co-produced by Master Cylinder (Peter Ducharme). A limited edition EP, Underdrive, preceded the release of the full-length in November 1999, and The Great Indoors hit the streets on February 22, 2000 following a sold-out CD release party the weekend before.
The success of their records, along with the band's electrifying live shows, turned Star Ghost Dog into a genuine sensation in Boston. They built a devoted local fan base, and they headlined high-profile events that result in packed rooms and sold-out shows. They won some of Boston's highest accolades, including the 2000 Boston Music Award for Outstanding New Rock Band (Indie Label), Ginny's win in the Boston Phoenix Best Music Poll 2000 for Best Local Female Vocalist, and a spot in Boston Magazine's "Best of Boston" 2000 issue for Best Up-And-Coming Artist. In 2001 they were nominated for a second Boston Music Award for Outstanding Single (Indie Label) for "Holiday" and Ginny received a second Best Local Female Vocalist nomination in the 2001 Boston Phoenix Best Music Poll. Both Happylove and the Underdrive EP spent several months riding up the CMJ charts and winning extensive critical praise in the music press. The Great Indoors, for its part, took Star Ghost Dog to a new level of renown. It spent over a month in the CMJ Top 30 and was the subject of glowing reviews from The CMJ New Music Report, The Boston Globe, The Boston Phoenix, and Billboard Magazine. The album's first single, "Knock Down," was added to regular rotation on New England's premiere alternative rock station, WFNX.
The band broke up in 2001, but Ginny and Brendan continue to write and record music.
©2009 Star Ghost Dog - All Rights Reserved